Posted by Show Ring Outfitters on 11th Dec 2019
Picking out a new show ensemble is kind of like picking out your wedding dress. It's exciting, it's expensive, and it's going to live on in all your pictures. The possibilities are endless, and it can be overwhelming trying to envision what your dream show outfit would look like once all the components come together.
As you begin to explore your options, it's important to remember that you not only need to select colors that compliment your own skin tone, but also your horse's color. However, finding the perfect match to compliment both of these factors isn't always easy. Luckily, we've put together a little guide to help get you started. Here are some top recommended options, according to fashion experts: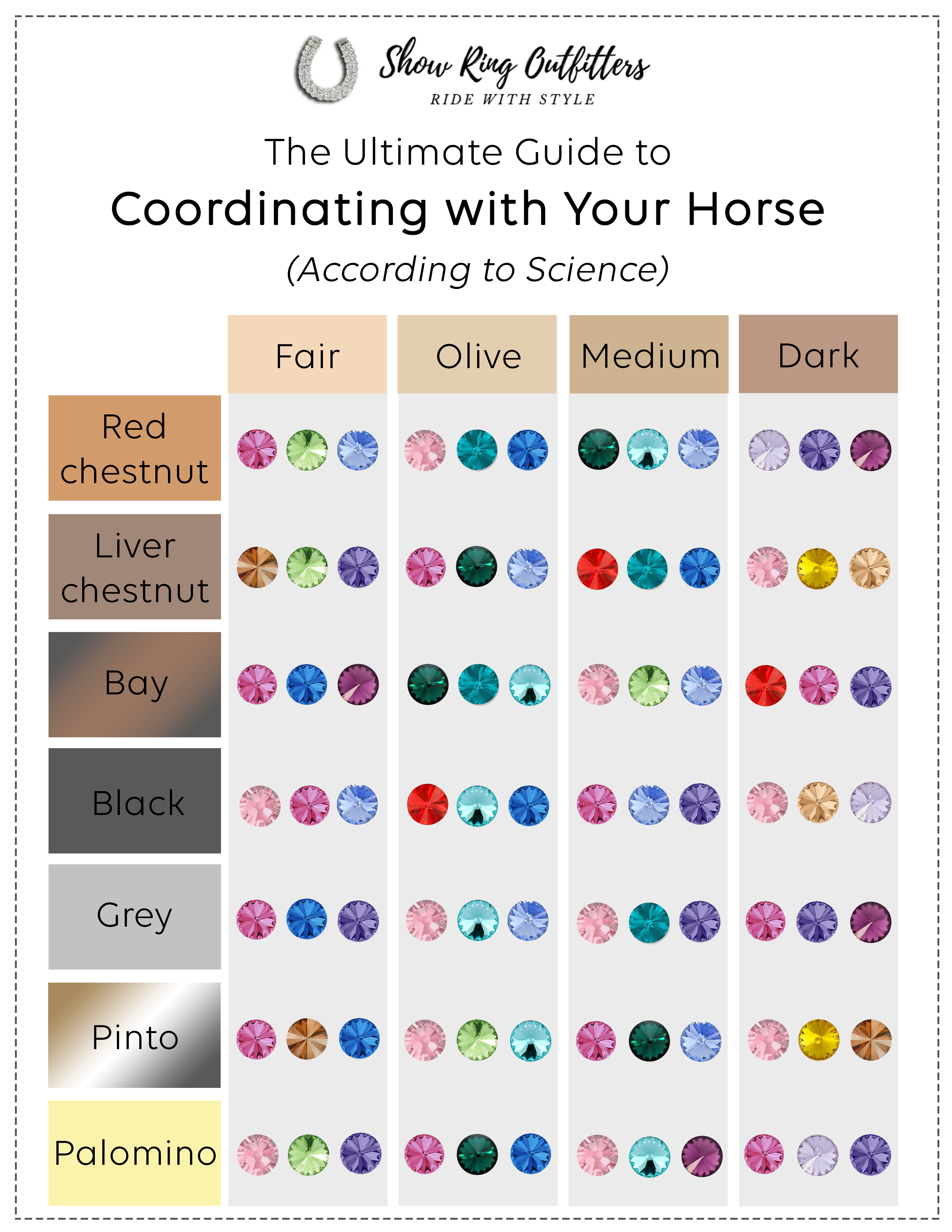 (See something you like? Check out our new in-stock colors for 2020!)
In addition to the factors above, here are a few more things you may want to consider:
Your Horse's Markings
If your horse has particularly bold markings, you will want to consider how certain colors will look when paired with these. For example, if your horse is already "flashy" on its own, you might be better off going with a more subtle color palette. Or, if your horse doesn't have a lot of chrome, bolder colors can really help you stand out. If you know you're going to be using a tail switch on your horse that has contrasting colors in it, you'll want to take that into consideration as well.
Your Division
The division you will be showing in can sometimes influence the color palette you select. For example, riders in the equitation division tend to choose softer, "classic" colors that don't distract from the rider. Riders in the five-gaited and park divisions may choose brighter colors to compliment the excitement of their classes.
Versatility
If you are going to be showing multiple horses, or competing in multiple different divisions, then you'll want to choose colors that work well with all of those variables. Reds, pinks, blues, and purples tend to work well with most horses and color palettes.
Personal Preferences
You have to wear something that makes you feel good! If you're being guided towards pink, but that's really not your thing, then go with a color that allows you to express your personal taste. The better you feel in your show outfit, the more confident you'll be when you step into the ring.
Planning out the details of your show outfit can be overwhelming at the beginning, but when it all comes together, there is no better feeling. As we ring in the new show season, we wish each and every one of you the very best of luck!